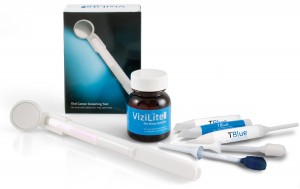 Early Oral Cancer Screening
ViziLite® TBlue® is used to help oral healthcare professionals identify, evaluate, monitor and mark abnormal oral cell lesions suspicious for pathology including precancerous and cancerous cells that may be difficult to see during a regular visual exam.
ViziLite TBlue Advantage:
Quick and easy-to use system that incorporates seamlessly into your standard visual examination – procedure only takes 2 minutes to complete
Small device size enables easier access to see and focus light inside the oral cavity
Disposable technology eliminates cross-contamination and improves infection control
Patented and clinically proven technology that has been helping healthcare professionals for more than a decade
A clinical study has shown that the use of ViziLite TBlue after a conventional visual examination resulted in1:

NO FALSE NEGATIVE OUTCOMES, meaning in this clinical study ViziLite TBlue identified every lesion that had precancerous or cancerous cells
SIGNIFICANTLY REDUCED the number of false positive lesions identified during standard visual examinations – limiting the number of biopsies that may have normally been performed
How ViziLite® TBlue® Works
When cells mutate from normal to becoming cancerous they go through many changes. One change that occurs within the cell is the replication of nuclear DNA at an accelerated rate. The DNA takes up a greater percentage of the total cell volume as shown in the illustration below. The ratio between the nucleus and the cytoplasm can increase until the nucleus takes up nearly 100% of the cell volume.
With ViziLite TBlue, oral healthcare professionals now have an adjunctive screening system that helps to identify, evaluate, monitor and mark abnormal oral lesions that may be going through these dysplastic changes. The pre-rinse solution in ViziLite TBlue desiccates the cells to make the nuclei more prominent and; therefore, more visible. The low intensity light from the handheld light source is reflected off of these abnormal cells down to the basement membrane where the nuclei have been rendered more prominent and appear to "glow" – making abnormal cells easier to see.
TBlue®
TBlue is a toluidine blue-based metachromatic dye used to mark ViziLite identified lesions for further evaluation and monitoring of changes. TBlue, packaged in an easy-to-use three-swab system, provides the blue staining that allows ViziLite identified lesions to be seen clearly under normal light.