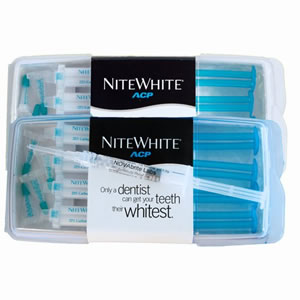 Rebuilds Enamel and Restores Lustre 
Nite White ACP contains amorphous calcium phosphate (ACP), which is a chemical compound similar to the natural minerals that make up teeth. While the peroxide whitens, ACP rebuilds enamel by creating a micro coating over the original tooth surface, making teeth stronger and shinier. 

Reduced Fadeback
Patients treated with Nite White ACP experienced less fadeback 6 months post-treatment compared to those using Nite White without ACP. 

Dramatically Reduces Sensitivity 
Nite White ACP contains 3 desensitisers: Potassium Nitrate, Fluoride and Amorphous Calcium Phosphate (ACP). No other whiteners have these 3 leading ingredients. Patients reported 30% less sensitivity when treated with Nite White ACP and twice as many reported no sensitivity at all.

Reduced Wear Time Options 
The high-performance Nite White Turbo formula of 6% Hydrogen peroxide, with patented activation matrix, whitens teeth an average of 6 shades in only 3 overnight applications. Patients appreciate the short wear time and results.

Patented Syringes for Stability
By separating the ingredients in patented dual-barrel syringes, the teeth whitening gels remain fresh and stable without requiring refrigeration.
In addition, separating calcium and phosphate in each barrel maximises ACP's effectiveness.
This proprietary syringe is available in two sizes:
• Unit-dose or Unidose
• Multi-dose (3 applications)