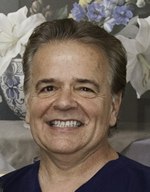 Dr, Leonard Pizzolatto is originally from Houma, Louisiana where he graduated from Terrebonne High School in 1972. After acquiring a Bachelors's Degree from LSU he went to LSU School of Dentistry finishing in 1980. He has over thirty years experience in all phases of general and cosmetic dentistry and has continued to further his expertise by taking many hours of continuing education over the years.
He is married to Marena Head Pizzolatto and enjoys spending time with his son, Derek, his daughter, Natalie and her husband Joseph. Hobbies includes hunting, racquetball, gardening, and ballroom dancing.
Our office is centrally located in downtown Houma. We offer treatment in all the disciplines of general dentistry. In addition to this, porcelain crowns can be fabricated and delivered in one appointment. Laser dentistry, which can be considered less aggressive, can be performed in certain circumstances.
We welcome all new patients and will be able to meet all of your dental needs. Our staff will provide you with the best care possible in a gentle and caring environment.

Pictured from left to right: Natalie (Dental Assistant), Christy (Office Manager), Monique (Dental Assistant),
Dr. Leonard J. Pizzolatto III, D.D.S, Jeanette (Dental Assistant), Molly (Dental Hygienist)